Ceiling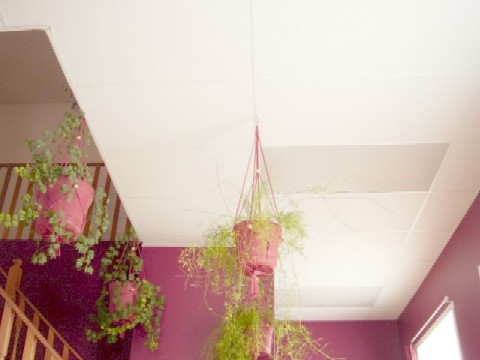 Suspended ceiling
One of my friends criticised me for my decision to go with the suspended ceiling as it looked like an office space in his mind. Does it?
The primary benefit of the suspended ceiling in my view was ease of installation. Nail wall angles around the perimeter of a room. Suspend main tees with a wire and eye bolts driven into ceiling joists or beams. Interlock the main tees with the cross tees and install the panels. Done.
No monotonous leveling of ceiling joists, no heavy drywall lifting with drywall jacks, no plastering and sanding in an awkward position and no painting.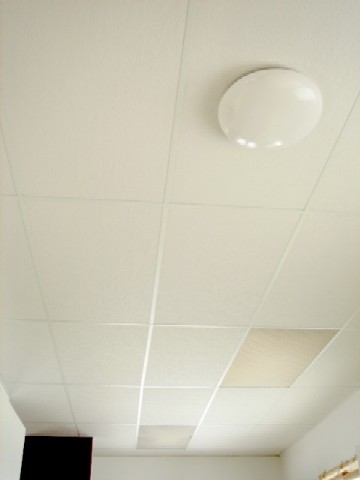 Other advantages of a suspended ceiling
There are plenty of other pros of the suspended ceiling:
the fiberglass panels absorb noise
besides having their own R-value, an additional air space creates an extra layer of the insulation for a ceiling
a space between the joists and the ceiling can be used for easy wiring if needed later on
all ceiling fixtures including lights and fans are readily accessible
2x4 pattern
A 2'x4' pattern is more economical as less tees and panels are required than for the 2x2 pattern. Thus, I went with the 2x4.
Fiberglass panels
Although fiberglass panels are a bit itchy to work with, I chose them for ease of installation in 3-inch clearance. Even with a 10' ceiling, I didn't want to reduce its height by more than 3 inches.
Installing a suspended ceiling is not just easy, it is also fast. It took me one evening to complete the ceiling in a bedroom. It would have likely taken at least three days if I had gone with drywalls.