Footing
Concrete tapered forms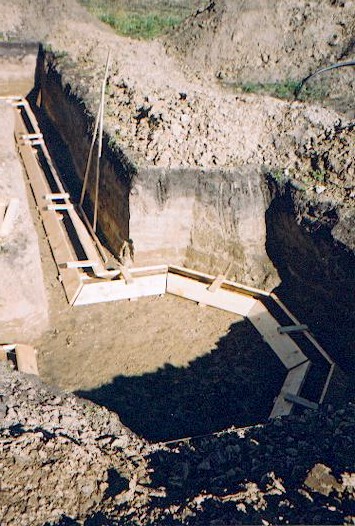 I had read in one book that a usual footing that was square in section made only sense in terms of time requiring to build simple forms. As I had plenty of time and didn't have to pay myself any wages, I decided to make tapered forms and save on concrete as it was not cheap compared to free labour.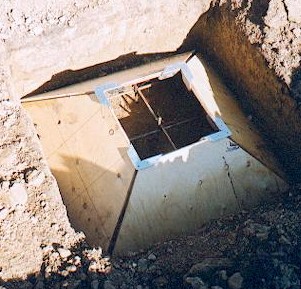 The tapered footing is as strong as the regular one. It is time consuming to make one especially given its shape and lack of electrical power on site. I had to buy a no-name cordless saw but the battery lasted only for two and a half cuts of 2x10" lumber. The rest was cut by hand saw.
I delivered lumber on site by renting a truck at Revy (Rona) for about $30. Therefore, I managed to get away without leasing or purchasing a truck for a construction period. It would definitely have costed me more.
Forms reinforcement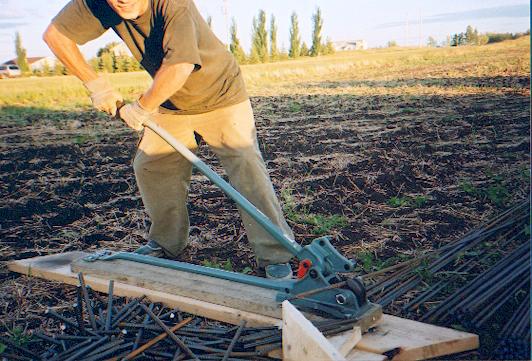 As most people know, concrete only gains sufficient strength if it is properly reinforced with rebars. Here I am, making hundreds of various length pieces using a rented rebar cutter.
It is much cheaper to buy 20-foot long rebars and cut them, then to get pre-cut ones.
Electrical ground
I embedded 15 meters of #2 bare copper cable into the footing within 50mm of the bottom of it. This should provide adequate grounding for all electrical wiring in the house.
Below are the forms ready to accept concrete. Year 2002 was the beginning of a construction boom in Alberta and The 2010 Winter Olympics preparations in British Columbia where most trades were headed to. Hence, finding a helper for pouring concrete was hopeless. I called tens of companies and no one could assist. I knew I coudn't have done it alone.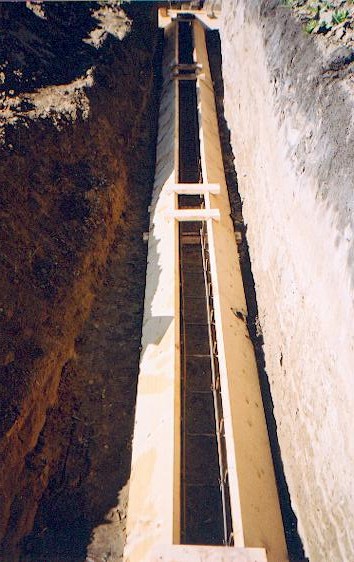 One person has to hold the boom of a concrete pumping truck and direct concrete into forms while the other person working with a stick, has to make sure that concrete fills tight corners of the tapered forms to eliminate any voids in the footing.
Thanks to my friend, Igor, who volunteered to give me a hand. The job was pretty intense and not very pleasant as there was almost no room around the forms to step our feet on. So we walked on the forms balancing with the heavy hose and a rebar that I used to push concrete into the tight corners.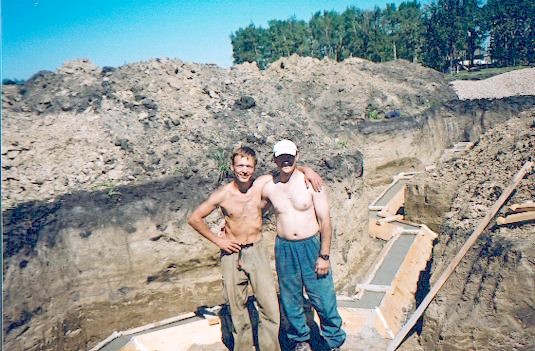 Nevertheless, couple of hours later the job was done. Unfortunately, I hadn't had a chance to take a picture of the concrete pumping truck with its long boom that was operated remotely. An amazing machine, relatively expensive too but the only one that could have done a nice job in my conditions as there was no way to use a wheelbarrow. I think it is pretty standard now for building foundations but it was a new experience to me.