Painting
Colours
First floor
I really liked dark colours, especially the combination or a contrast of dark and white. Therefore, I decided that no matter what, the first floor would have been dark red. The exact colour name was CIL French Grape (76RR 08/316). Unfortunately, I no longer have a can to give its colorant content.
After I had to put the fourth coat not counting the primer one that was the same colour, I changed my mind about the dark paint. It looked beautiful but it took too long to complete and it cost a small fortune.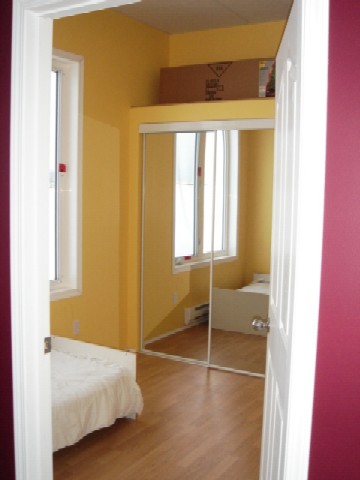 First floor - guest room
The French Grape taught me a lesson. No more dark. The guest room was painted in yellow or more precisely CIL Golden Day. The shiny mixture was:
CIL Golden Day D22 (35YY 71/474)

| Colorant | 0Z | 48 | 96 |
| --- | --- | --- | --- |
| AX Perm Yellow | 6 | 34 | 0 |
| R Exterior RE | 0 | 14 | 0 |
It only took one primer coat and two main ones. These numbers convinced me that the light colours were not bad either.
Second floor - library, office and sun room
All these rooms were painted in the same Golden Day yellow.
When the sun shined through the windows, all these rooms were indeed golden.
Green indoor plants looked gorgeous on this yellow.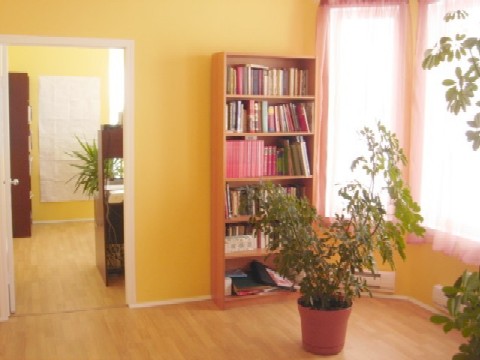 Second floor - playroom
The kids playroom was Ocean Tide blue with the following composition:
CIL Ocean Tide D48 (66BG 68/157)

| Colorant | 0Z | 48 | 96 |
| --- | --- | --- | --- |
| D Thalo Green | 0 | 2 | 0 |
| E Thalo Blue | 0 | 32 | 0 |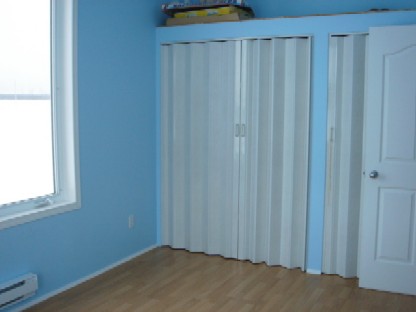 Second floor - master bedroom, kids bedroom and second office
These room were painted in Window Garden green. Here is the recepie:
CIL Window Garden D34 (50GY 69/306)

| Colorant | 0Z | 48 | 96 |
| --- | --- | --- | --- |
| AX Perm Yellow | 1 | 44 | 0 |
| D Thalo Green | 0 | 40 | 0 |
Kitchen and bathrooms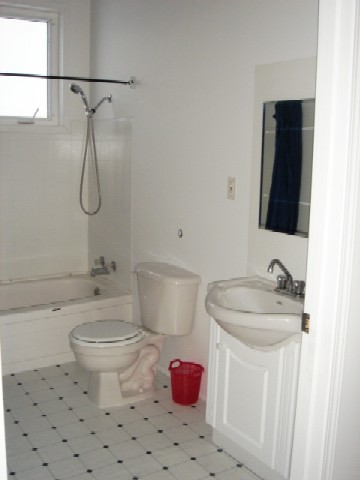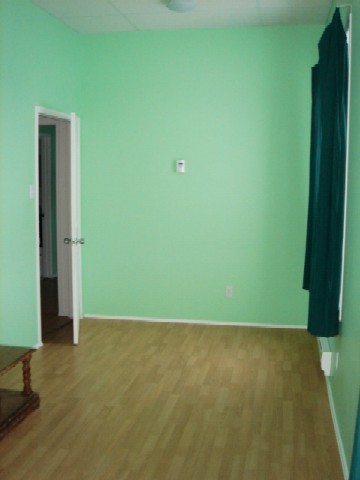 For the kitchen and the bathrooms I had chosen the really fancy colour... white. The exact name was pure white. The composition I believe was also 100% white.
All in all, I had 5 different colours in the house: red, green, yellow, blue and white.
Paint
All interior paint was acrylic latex with eggshell texture.
Brushes and roller trays
Most everything was painted with roller brushers. I had the one with an extension pole that allowed me to cover the entire 10-foot wall from the floor to the ceiling without using a ladder. I painted corners with a corner brush that had replaceable pads.
As for roller trays, I found that the large one made from thick plastic, worked the best. It had rougher ribbed surface than the metal trays. It made covering the roller brush with paint easier. In metal trays the roller brush often slipped along the bottom rather than rolled over it.
To save on brushes, I kept them in plastic bags between coats. Tightly wrapped in plastic, a brush remained wet for a few weeks and could be re-used if necessary.