Ventilation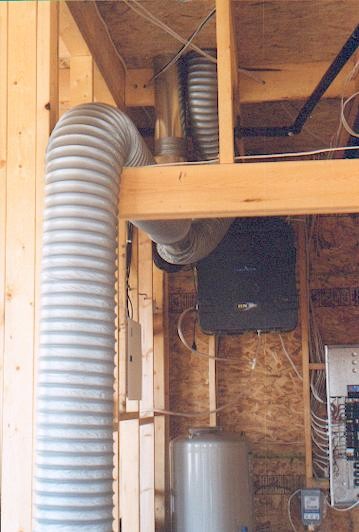 Ventilation and air filtration
Ventilation is necessary to keep moister out of a house. It is also essential if one wants to breath fresh air year around. Filtration is a bonus. People allergic to dust know what I'm talking about.
It may sound ironic to install a system that removes moister from a house in dry Alberta where almost all heating systems actually have humidifier built in. Nevertheless, moister does accumulate in air-tight houses and causes problems such as mold.
In winter I made an experiment and turned my ventilation system off for a few days. Cold windows began condensing excess water in air soon after.
Many unliving areas in a house require ventilation such as crawl space or attic. To vent my crawl space I cut 10 or 12 windows in it and covered them with vent grills. Attic also has two grilled windows on opposite sides and plus soffit vent all around.
Most houses use forced air heating system where ventilation is combined with the heating system. With electrical baseboard heating there is little air circulation. Therefore, I built separate ventilation and air filtration system using Venmar HEPA 3000.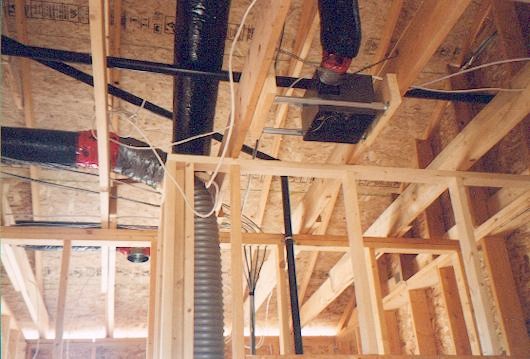 Remote panel
Its remote control panel has three modes: normal ventilation with fresh air intake, boost mode when it almost doubles its air flow and recirculation mode for very cold weather when no fresh air is taken.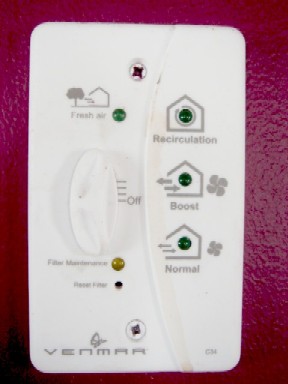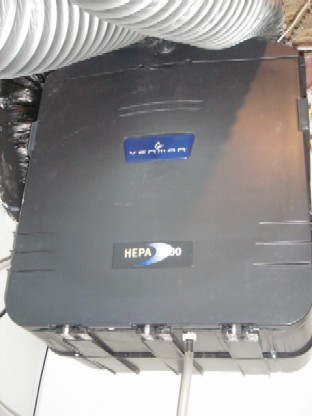 A quote from the Venmar web site:
In addition to providing excess humidity control and heat recovery functions, it can also help reduce symptoms of respiratory ailments and allergies, thanks to its remarkable HEPA filter, which captures 99.97% of all dust and particles even those as small as 0.3 micron ( 1 human hair = 150 microns).
On the picture above you can see the flexible duct pipe that came with HEPA 3000, although the majorty of ducts I made from 6" galvanized rigid pipes. Those that were installed in attic space were insulated with batt sleeves in plastic cover to stop condensation (see the picture above).
Every room had a vent in a ceiling or high in a wall.
HEPA 3000 was designed to bring in slightly more air than it vented out. This was done to accomodate bathroom and kitchen exhaust fans.
Bathroom and kitchen fans
In the master bathroom I installed NuTone 110 cfm fan and in two other bathrooms - 80 cfm fans. They were all super quiet (and super expensive) models, 1.0 sone. I had hated loud fans, thus I didn't regret spending money on quiet variants.
In the kitchen I installed Broan range hood fan vented outside that had 220 cfm and 1.5 sone when in high speed mode.