Appliances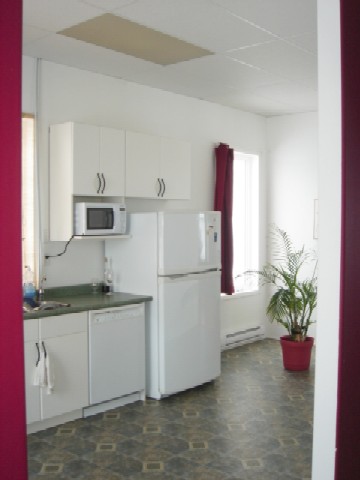 Kitchen
Almost all my appliances were Whirlpool brand except dishwasher, microwave and wood stove.
I visited lots of retailers. The best one was the Future Shop. They did want to sell me a package and they did will to bargain with me. Other places like Sears, for example, had no interest in this kind of deals. They quoted me the list price and when I asked for discounts, they looked at me as an idiot. The Future Shop guy made dozen of trips to his manager and at the end gave me the best price out of all I had seen.
Fridge
It must have been big. Fancy side-by-side fridges were not. Whirlpool Gold 22 cu. ft. capacity, freezer on top, model GR2SHKXMQ00 was the largest one available.
Dishwasher
Dishwasher was GE GSD62009GWW. Features and benefits from the spec link above:
ENERGY STAR Qualified
Full-Length Flat Door
Tall-Over-Tall™ Towerless Rack Design: Tiered Upper Rack w/PVC Tines and Two Utility Shelves, Lower Rack
QuietPower™ IV Sound Insulation Package with ActiveVent II System
XtraClean™ Wash System with Six Wash Levels
XtraClean™ Sensor with Integrated Automatic Temperature Control
Variable Cycles: Anti-Bacteria (NSF Certified), Pots & Pans, Normal Wash, China/Crystal and Rinse Only
Three Full-Size, Direct-Feed Wash Arms
100% Triple Water Filtration System with XtraFine™ Filter/Dual Pumps and Motors
Inlaid Light-Touch Electronic Controls with "Clean" and "Sanitized" Indicator Lights
Silverware Basket with Two Cell Covers
Multi-Wattage Heating Element
Options: Start/Reset, Child Lock-Out, Delay Start (2/4/8 Hours), Heated Dry, ExtraHot Wash and Auto HotStart™ Feature
Microwave
It was Panasonic 0.8 cu. ft. 0.8 kW stove, model NN-S335WF. It fitted perfectly into the IKEA microwave shelf.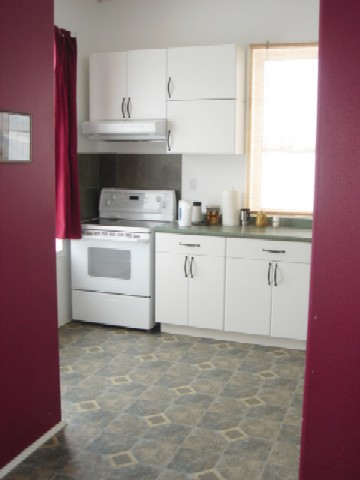 Range
The range was Whirlpool smooth ceramic glass top model GLP85800. Features and benefits:
Convection cooking
Self-cleaning
Electronic display
Fluorescent cooktop light
Hot surface indicator
Automatic oven lights switch
Five cook top elements:

single elements
dual element
bridge element
warming zone

Two oven elements:

broil element
invisible bake element

Self-clean latch
Oven door window
Removable storage drawer
Laundry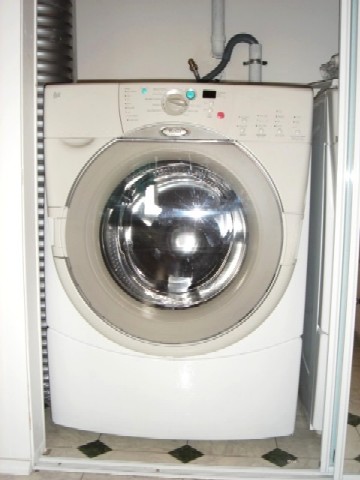 Washer
Whirlpool front-loading automatic washer, model GHW9100LW2. Features and benefits:
Electronic controls
Three-compartment dispenser for detergent, softener and bleach
Auto water level
Larger load size
Suspension system isolates vibration and minimize movement
Stainless steel drum
High efficiency wash system lowers water and energy consumption
Four spin speeds
ACCUWASH automatic temperature controls
Add a garment option
Catalyst cleaning action with direct injection
Efficient detergent system
Dynamic off-balance detection and automatic load redistribution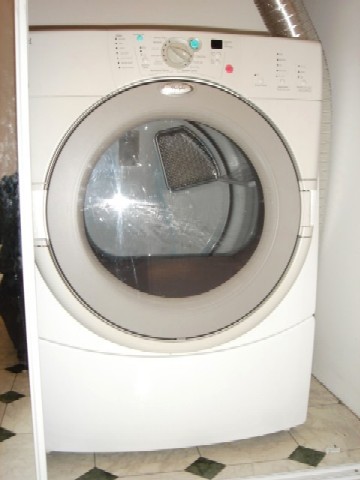 Dryer
Whirlpool front-loading electronic electric dryer, model YGEW9200LW1. Features and benefits:
Five automatic and three manual cycles
Dryness level
Wrinkle shield
End of cycle signal
More or Less Time control
Status lights showing the drying stages
Temperature settings
Drying rack
Wood stove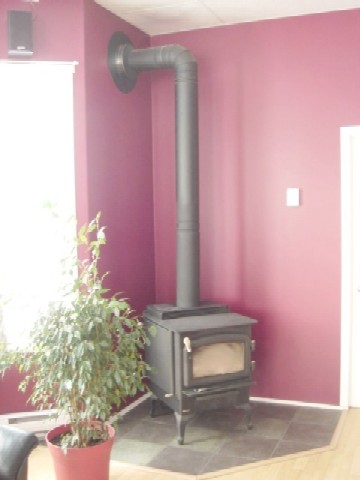 Regency model F2400. Main features:
75,000 BTU
77% efficient
18" log size
2-speed electric blower (automatic or manual mode)
The wood stove had been thought of as an emergency heater only. If there had been no power in -40° Celcius, then the water pipes would have been frozen with very bad consequences. Besides this peace of mind, it could have been used as a main source of heating if I had found some good free fire woods.
I must tell a remarkable story about wood stove installation. That was the only job that had been done by a professional (not counting the water well drilling). Installation was free, well hiden in the stove price. I should also mention that my insurance company really liked it being done by a certified installer.
The chimney had to extend well above the roof for fire safety. I pointed to the installer about strong winds in my area but he said that he installed lots of chimney in areas like mine and had no problem with them at all.
What do you think? The first strong wind blew it away. Think twice: do it yourself or call a professional?