Siding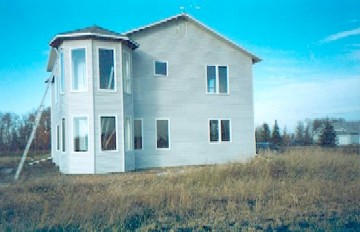 Scaffolds
No, I hadn't made them nor rented. I managed to install siding panels with just two ladders. The panels were 12 foot long. I locked and nailed the middle portion of a panel first, then its ends. Lots of going up and down the ladder. Lots of ladder moving as well. The end result was the same: siding was done in about two or three weeks. I worked only on weekends and evenings.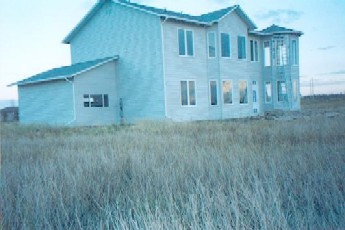 Working around windows
Slightly tricky part of siding was working around windows. And you already know that I had plenty of them. I had to buy a simple but a bit expensive tool, snap lock punch, expensive due its unique application. It made snap locks in a panel that allowed the panel to lock into a channel under and above a window.
It worked perfectly in normal temperature but evenings had become colder and colder. You may know that most plastics become brittle in cold temperature. Siding panels were not an exception. Therefore, instead of making a nice snap lock, sometimes it just punched a hole. The remedy was to apply pressure on the punch tool really gently.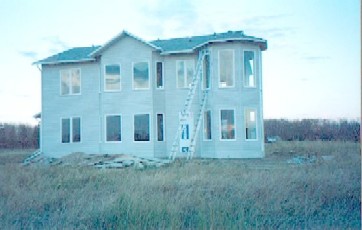 Colour
If anybody wonders the siding colour is called sterling. It has something to do with silver, I guess.
Ordering panels
Initially I had looked for siding at my usual building material suppliers, i.e. Home Depot, Revy and Totem. Ordering from a specialized distributor saved me a couple of grands.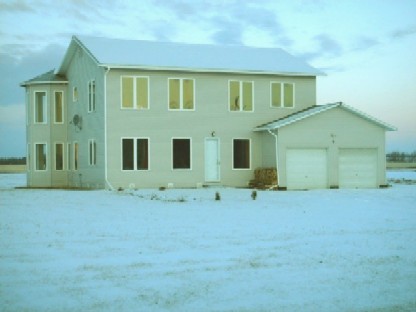 Front view
On this picture you can see the front of the house facing the crescent road one year later.
Installation manual
If anybody is interested in doing it, here is a good Vinyl Siding Installation Manual.