Percolation test
The percolation test is required to properly size a private sewage disposal system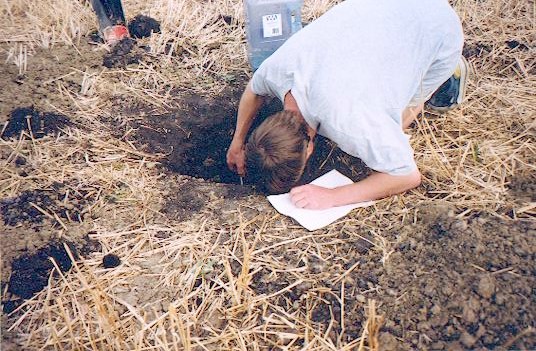 I did it in spring. Nearby river supplied enough water for the test. The whole concept of a private sewage disposal system is described on the Municipal Affairs web site in The Alberta Private Sewage Systems Standard of Practice 1999 Handbook . And the percolation test is in Appendix B of the Handbook. The newer edition is now available for purchase on their web site. 1999 edition was free at that time.
The purpose of the percolation test is to obtain data that can be used to determine the soil infiltration area required to accept the expected volume of sewage per day.
Briefly, the procedure requires a 3-foot deep, 8 inches in diameter, hole with some kind of protection for the bottom and walls from collapsing when filling the hole with water. I simply used 8-inch duct and put some gravel underneath to protect the bottom.
The hole must be presoaked for 15 hours when filled with 18 inches of water or until 20 gallons of water are exhausted. In my case it was the later. Then the measurements of water level drops are taken every 30 minutes until the difference in two successive measures is no more than 1/8 of an inch.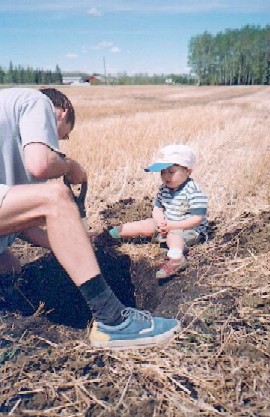 My little helper
To provide reliable results, two test holes are recommended within the area of a proposed sewage disposal field. So I dug another one, this time with a helper.
Test results
Date
Test hole No
Water drop in inches per 30 minutes interval
Rate, min/inch
Disposal field treanches bottom area, sq. m
1st measure
2nd measure
3rd measure
June 1, 2002
1
4.1
3.9
3.9
7.7
70.3
June 9, 2002
2
4.9
4.5
4.5
6.66
65.76