Landscaping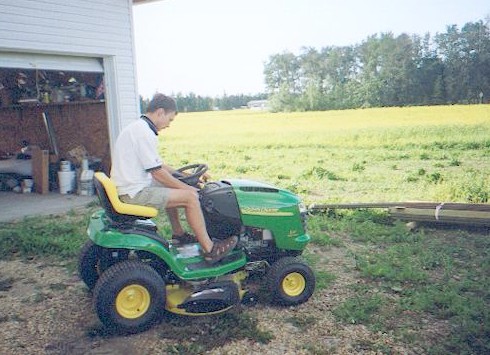 Seeding the grass
Unfortunately, I don't have a picture of this amazing Bobcat with a landscape rake attachment. You can get all the details if you follow the link. I had to rent one for landscaping. It raked and collected surface debris and rocks while smoothing and leveling the soil.
My good neighbor lent me a grass seeder cart. Many bags of lawn seeds were gone before the entire acre was seeded.
According to the instructions on a bag, I was supposed to keep the soil wet for about two to three weeks. They must have been kidding. How did they expect me to do that for the entire acre? Nature helped though. There were a few showers during those weeks. Otherwize, imaging me watering a soccer field?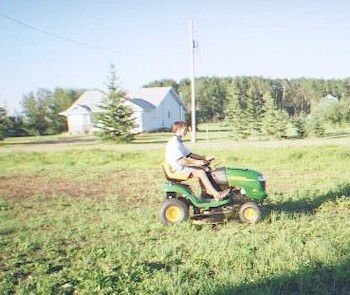 Mowing the lawn
The backyard, a size of a soccer field, did require a mower. On the picture you can see me trying 20 hp John Deere L111. You can get all the glorious details about this machine if you follow the link above.
It is amazing how fast the grass is growing. I have to mow it at least once a week. It takes from two to four hours to do the job depending on how often I do it and the end result I want to achieve.
A 10-liter gasoline tank lasts usually for three weeks.